Veterans' Memorial Service
https://ffnv.org/wp-content/uploads/2017/05/BSA-24-color-guard-1024x683.jpg
1024
683
omcadmin
https://secure.gravatar.com/avatar/abf83d051360401e2dbd26ce2993a1cf?s=96&d=mm&r=g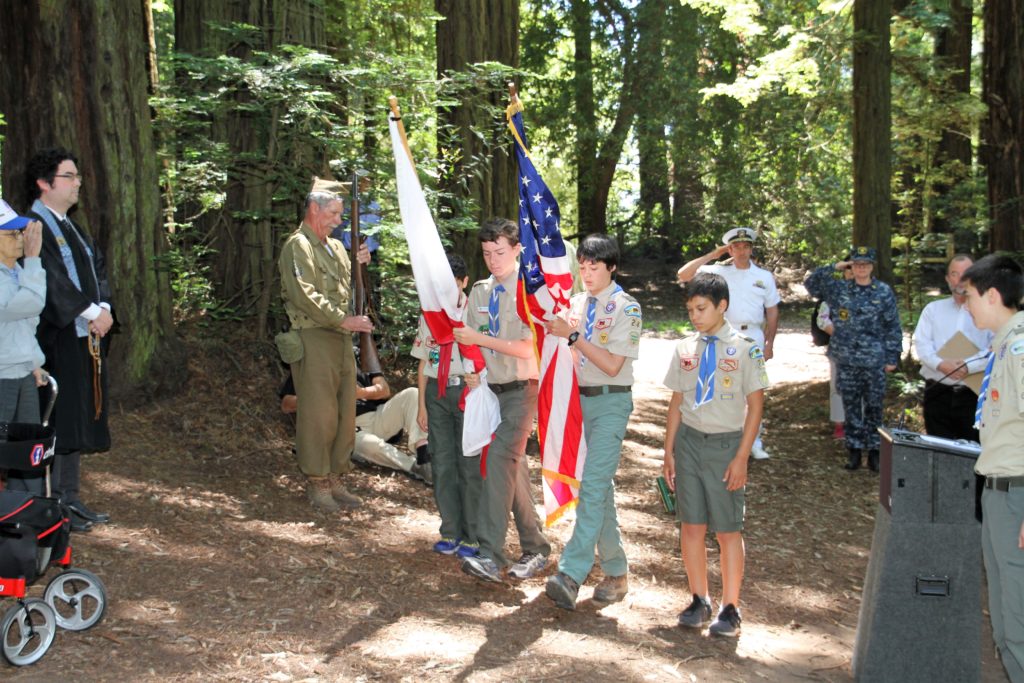 Veterans' Memorial Service
Friends and Family of Nisei Veterans (FFNV) held its annual memorial service on May 20 at Roberts Park, Oakland Hills, Calif. Nearly 100 participants including several WW II veterans, widows, family members, friends and supporters attended to honor and pay respect to veterans of all wars.  This memorial service began at this site in 1992 as a tribute to fallen members of Company E, 442nd Regimental Combat Team during World War II.  A redwood tree was planted in honor of those veterans and it is now a symbol of respect for veterans of all wars who gave their lives for this country.  Reverberating sounds of inspiring performances by Bands of the West greeted all attendees who came together in one warm camaraderie surrounded by majestic redwood trees.
Tom Graves, noted author and photographer, opened the service as master of ceremonies. Berkeley Boy Scout Troop 24 provided military honors with posting of the colors.  Reverend Harry Bridges of Oakland Buddhist Temple delivered a warm message.  Lawson Sakai, President of FFNV and a 442nd Regimental Combat Team (RCT) veteran delivered welcoming remarks and briefly talked about his own experiences serving with the 442nd RCT.  A family-style picnic after the service was enjoyed by all on this unusually warm and pleasant day.
If you wish more information about FFNV, please contact Brian Shiroyama at [email protected] or call  (408) 896-1021.
Photo courtesy of Mas Hashimoto.