Over a decade  ago, we were pleased to announce that FRIENDS AND FAMILY OF NISEI VETERANS (FFNV) had been commissioned to create an exhibit of the 100 Battalion/442nd Regimental Combat Team (100/442nd RCT) and the Military Intelligence Service (MIS) for the museum aboard the USS HORNET, a World War II aircraft carrier "anchored" in Alameda, CA.
This unique exhibit was made possible through generous monetary and memorabilia donations from many veterans of the 100/442nd  RCT and the MIS, widows, family members, friends, and even "strangers" who understood the importance of "telling the story" about our Nisei soldiers. Thank you!
The exhibit begins with a history of Japanese migration and the events following the bombing of Pearl Harbor that culminated in the evacuation of 120,000 persons of Japanese ancestry from the West Coast.  The main focus of the exhibit are men who served in the 100/442nd Regimental Combat Team in Europe and men and women who served with the Military Intelligence Service in the Pacific.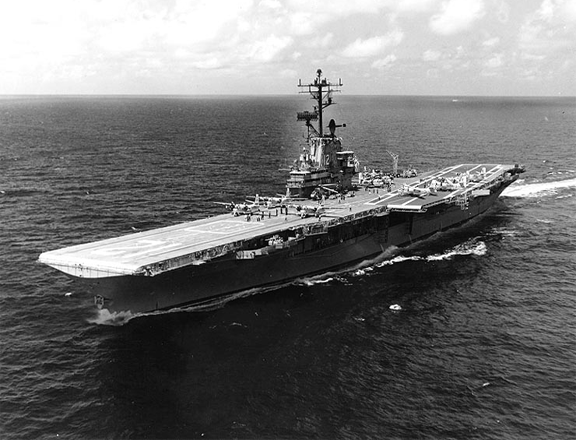 In order to keep the cost of this project low, all phases, except painting of the rooms and construction of display stands/cases, have been done "in house" through volunteer work. The grand opening of this Nisei Veterans' Exhibit was held on August 5, 2006.
The USS HORNET Museum is open daily 10:00 AM – 5:00 PM except for Thanksgiving, Christmas, and New Years. Admission: Adults, $20; seniors, military, and students, $15; youth (5-17), $10. Directions: Off Interstate 880 near Oakland, CA, take the Broadway exit.  Follow the signs to Alameda.  Upon emerging from the tunnel, proceed to Atlantic and turn right.  Go beyond the Alameda Point gate and turn left on Ferry Point.  Proceed to a cluster of Navy ships.  The USS HORNET is at the last pier (3).
If you desire more information, please contact Brian Shiroyama at [email protected] or (408) 896-1021.  If you wish to make a monetary donation to the USS HORNET project, please address your check to "FFNV" and annotate "USS HORNET Project" at the bottom in the "For" section. The FFNV is a tax-exempt 501 (c) 3 organization. Please send your check to FFNV at P.O. Box 626, Gilroy, CA 95021. You may also donate at our website: www.FFNV.org.  If you wish to make a donation of memorabilia items (photos, documents, flags, books, etc.), please also contact Brian.  Thank you!