Welcome to the FFNV Website
Friends and Family of Nisei Veterans (FFNV) began as an E Company-sponsored group in Northern California to preserve the proud accomplishments of the 100 Battalion/442nd Regimental Combat Team (RCT) and to honor all veterans of the RCT.
Register for the Annual Nisei Veterans' Reunion
Friends and Family of Nisei Veterans (FFNV) will host their annual reunion in Little Tokyo Los Angeles on Sept. 29 to Oct. 1, 2023.
Rate Code: FFNV (input under "Promo Code")
https://www.miyakola.com/
For Room Requests/Preferences:
Please advise them that if they have any room request/preference to leave it in the "additional details" section when making their reservations.
Over 2 Guests in a Room:
If they would like to have more than 2 occupants in the room, the system will not show anything if they put more than 2 occupants when making their reservation. In those cases, they can put 2 occupants, so they make the reservation and leave note if there is an extra guest. An additional fee may be assessed for any additional guest over the age of 12.
Additional Nights:
If anyone would like to stay outside of the room block dates, they can make their reservation with the code and email us to make the date adjustment for them. Different rates may apply outside of the room block dates.
Payments may be made by check as designated on the registration form or can be paid online through the website:  ffnv.org
Click on the "Donate" button, check "FFNV activities", indicate your total fees, then you will be able to leave a memo designating registration fees.
Keep the Story Alive
Following the formal approval by the Mayor and City Council of Bruyères for the proposed Heroes of the Vosges Museum, a website was prepared that encourages cash donations and the offering of artifacts associated with both the 100th/442nd and the French Resistance. The Resistance played an important role in assisting the Nisei. Too many of these precious artifacts have already been lost to history as the children and grandchildren of the Nisei may be unaware of their historical importance.
Please go to vosgesheroes.org. There you can read the approved plan and contribute as you see fit. A form for donation artifacts can be downloaded from the site. If you have or know of others who have artifacts that can be loaned or donated to the museum, please have any questions directed to me at [email protected] or 916-233-8069.
CGM and GFB virtual events
* Join us for a 30-minute virtual presentation to commemorate the 10th Anniversary of the Nisei Soldier Congressional Gold Medal.
* Go For Broke National Education Center's (GFBNEC) Living Nisei WWII Veteran Photo Tribute.
JANM Debuts Interactive 'Talk' With Nisei Veteran
A powerful new exhibition, "The Interactive StoryFile of Lawson Iichiro Sakai," is now open at the Japanese American National Museum (JANM).
ISLAND CITY WATERWAYS: UPROOTED
"Island City Waterways: Uprooted" is the 3rd in a series of site-specific performances of dance, theater and music, that celebrate the history of Alameda's unique waterfront. Uprooted will tell the story of Alameda Point, from the rise of civilian flight, to a Naval Air Station (NAS) that staged four wars, to land being repurposed to fill the promise of a community's future.
BRIAN SHIROYAMA RECOGNIZED BY JAPANESE COUNSULATE
Morgan Hill man honored for preserving history of Japanese American soldiers.
2023 MEMORIAL DAY SERVICE AT ROBERTS PARK
A pleasant weather on Armed Forces Day, May 20, 2023, greeted us to host our 31st continuously running memorial service at Roberts Park, Oakland Hills, CA, at the site of the planting of a redwood tree by veterans of E Company, 442nd Regimental Combat Team (442nd RCT), in 1992. As always, a concert in the park by US Naval Sea Cadet Corps, Band of the West, began the service with reverberating sound throughout the redwood forest. Berkeley Boy Scout Troop 24 magnificently performed the color detail.
Joanne Sakai delivered a message from Bishop Ito, Higashi Honganji Temple, Los Angeles, while Janet Ito and Tom Graves spoke of the legacy of Lawson Sakai. Brenda Montano of East Bay Regional Park District (EBRPD) and Domonique Williams of Roberts Park again helped us to ensure the success of this memorial service.
The featured speaker was EBRPD Board Director Dee Rosario. He profoundly recognized Lawson Sakai of the 442nd RCT who spearheaded the project to plant a redwood tree in memory of fellow veterans who did not come home. He eloquently concluded his speech by stating: "The cost of freedom is high. Let us use the sacrifice and courage shown and given by the members of the 442, despite their families' hardships at home, to inspire us to stand against hate and discrimination here and into the future."
We pledged to meet again on May 18, 2024.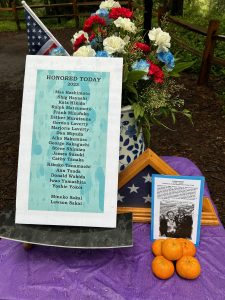 Donate to FFNV
Lawson Sakai's Last Visit to France
USS Hornet Museum
The USS Hornet Museum is now open on Saturday and Sunday until further notice. The Nisei Veterans' Exhibit aboard the USS Hornet Aircraft Carrier Museum, Alameda, CA is normally open Saturday and Sunday, 10 a.m. to 5 p.m. Questions?  Please contact Brian Shiroyama at [email protected] or call (408) 896-1021  to learn of its current status.
442nd Map
On June 3, 2021, the United States Postal Service (USPS) released the Go For Broke stamp. In addition, a Collectable Set, a booklet that explains various Nisei units during World War II, was published. The USPS used FFNV's campaign map displayed at the USS Hornet Museum in Alameda in the booklet.
Due to size limitations, the map in the booklet needed to be modified. The FFNV's map was developed by Lawson Sakai, E Company, 442nd Regimental Combat Team, and thus it is copyright protected.