FFNV Celebrates the Rescue of the Lost Battalion
https://ffnv.org/wp-content/uploads/2019/02/IMG_0303-1024x683.jpg
1024
683
omcadmin
https://secure.gravatar.com/avatar/abf83d051360401e2dbd26ce2993a1cf?s=96&d=mm&r=g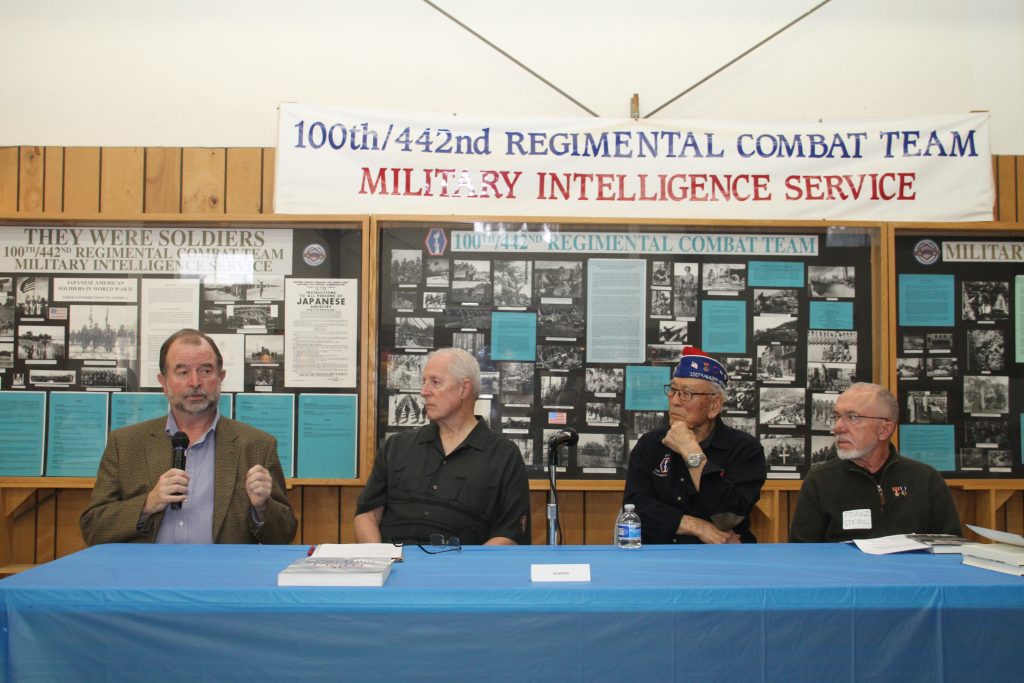 FFNV Celebrates the Rescue of the Lost Battalion
The threat of rainstorm did not deter faithful members from attending our kick-off membership meeting in Morgan Hill on February 9, 2019.
Consul General Uyama from the San Francisco Consulate extended his greetings and delivered an inspiring speech. He remarked: "The values the Nisei veterans fought so hard to defend, often making the ultimate sacrifice, are truly universal ones which are shared by all of humankind." He then stated that it was his deep honor and privilege to present Lawson Sakai the Order of the Rising Sun, Gold and Silver Rays, from His Majesty the Emperor of Japan, in recognition of his contributions to improve the status of Japanese Americans in the US. In addition, he credited Lawson for his outstanding effort to preserve Japanese American veterans history. In conclusion, Consul General Uyama noted upcoming Day of Remembrance events in various communities and offered his gratitude to Nisei veterans for making our Asian ancestry respectable and honorable.
The program focused on the epic battle fought…and won…by the 442nd Regimental Combat Team (442nd RCT), a segregated unit mostly composed of Japanese American soldiers, many of whom volunteering from internment camps. In late October 1944 in France, a battalion of the "Texas Regiment" became trapped by German forces. It became known as the Lost Battalion. Units from the Regiment attempted to rescue but retreated against formidable and determined German forces. Faced with the certain loss of 275 men, the 442nd RCT was ordered into action. After five days of intense combat and taking heavy casualties, the 442nd RCT rescued the remaining 211 soldiers of the Lost Battalion. This year marks the 75th anniversary of this historic battle.
Franz Steidl, author of "Lost Battalions," eloquently spoke of the military environment from both sides surrounding the Lost Battalion. Lawson Sakai, a 442nd RCT veteran, passionately spoke of the battle he faced – the hardship, bravery and victory. Mike McKague, the son of a Lost Battalion veteran. presented an interesting story of his dad's changed views of Japanese Americans after coming home. Al Tortolano, a Lost Battalion veteran, was unable to attend due to his advanced age and illness. However, as he has done in the past, he would have thanked the 442nd RCT for giving him life he thought he would have lost in October 1944. Tom Graves, author of "Twice Heroes," skillfully moderated the program while offering his admiration for the 442nd RCT for the rescue.
We wished Lawson Sakai well who will attend the 75th anniversary ceremony and celebration in Bruyeres in July this year, the town the 442nd RCT liberated just before rescuing the Lost Battalion.
Top photo: Panelist (left to right): Tom Graves, Mike McKague, Lawson Sakai, Franz Steidl.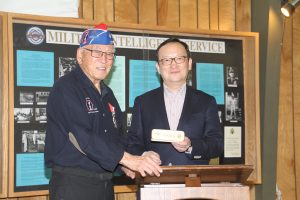 Above: Lawson Sakai with Japanese Consul General Uyama.